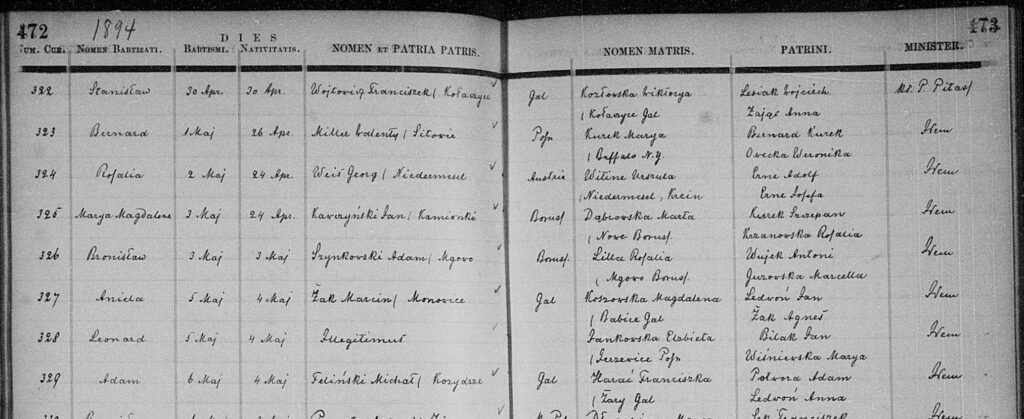 A number of our databases were indexed from microfilmed collections of church records from Polish parishes in Western New York. These microfilms have been digitized, and are currently browsable at FamilySearch at no cost. Similarly, FamilySearch is a great source for digital images of church records and other historical records from locations in Poland. To access these collections, follow these instructions:
Sign up or login to FamilySearch.
Click on Search > Catalog. You may find it convenient to keep the direct link to the Catalog in your bookmarks bar.
Under "Place," type the desired location (e.g. "Buffalo, " "Dunkirk," "Kowalewo," "Rogowo," etc.) and then select the relevant search result.
Then click "Search," and select "Church records" from the resulting list of collections.
Select a collection to view. It's necessary to click "Show more" at the bottom of the screen in order to view the full list.
Once you have selected a collection of interest, click the title of the collection, and then click on the camera icon to browse the digitized images. Note: If you are not currently logged into FamilySearch, all collections appear to have restricted access. Be sure to login first!
Use the arrows above the image to scroll through the register. You can also print or download the image from this view.
This article provides additional information on finding unindexed images on FamilySearch.
Pro Tips:
When searching for birth or marriage records for immigrant ancestors from Poland, it's important to first research in U.S. records to identify the precise location where the event took place. Many of our ancestors mentioned large cities as their place of origin (such as Warsaw, Kraków, or Poznań) when they were actually born in a small village within that general vicinity.
Once a place of origin has been identified, determine the parish or registry office that served that village. Gazetteers are helpful for this step; an annotated list of gazetteers for Polish genealogy is found here.
Remember that place names might not be unique. Be sure that you are searching in the correct location!
If you can't find digital images for your place of interest on FamilySearch, they may still be online at another website, such as Skanoteka, Szukajwarchiwach, GenBaza, Genealogiawarchiwach, etc. Check out our Research Links page for additional sites to search for indexed or digitized historical records.