PGSNYS is pleased to express appreciation to the Louis Skalny Foundation of Rochester, NY, for its recent $10,000 grant in support of the Dziennik Digitization!
"The Dziennik": Making a Great and Beloved Polish American Newspaper Available Online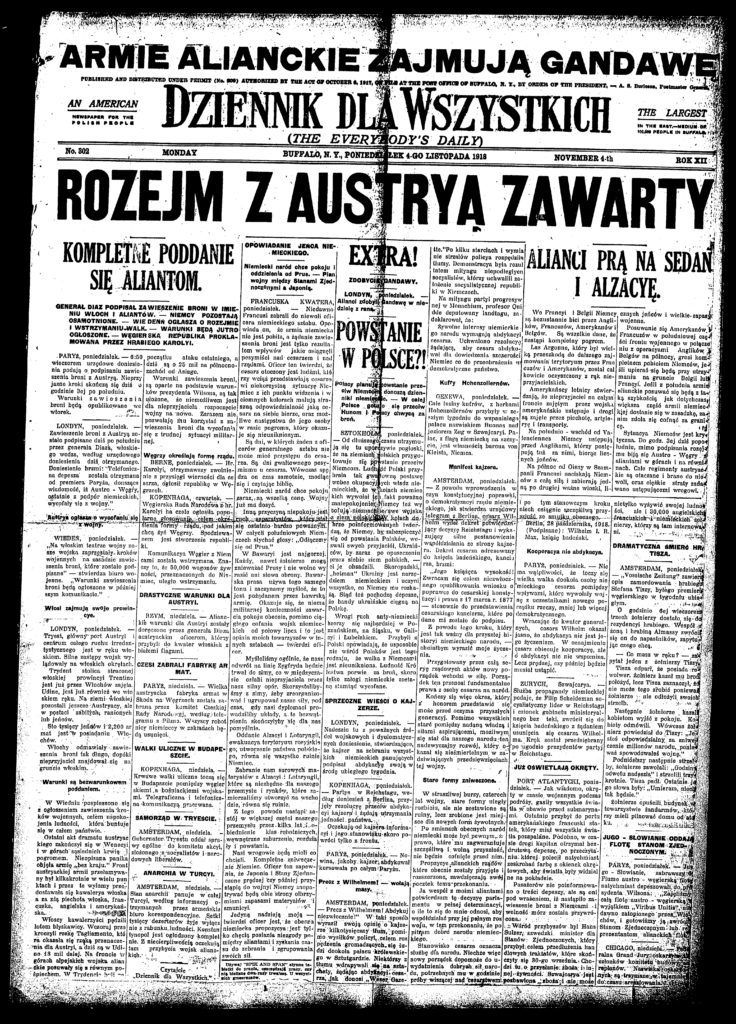 From 1911 to 1957, the Dziennik dla Wszystkich (Everybody's Daily newspaper) reported local, regional, national and international news to the Buffalo and Western New York Polish American community in the Polish language. Much of the Dziennik is now available (on microfilm only) in the Library of Congress, and through various libraries and institutions in Western New York. In 2017, PGSNYS mounted a campaign to convert these microfilmed editions to digital format, with the goal of making the Dziennik searchable through Optical Character Recognition (OCR) at New York State Historic Newspapers, and accessible to non-Polish speakers through ever-improving software for translation from Polish to English.
However, during that process, the PGSNYS discovered that almost 10 years of the Dziennik's local editions from historically significant years (1941–48, 1950–52 and 1957) were not available on microfilm. In 2022, PGSNYS mounted a campaign to digitize the remaining Dziennik issues by entering into a collaboration with the Polish Museum of America, in Chicago, Illinois, where the only extant copies of the Dziennik are housed, and the Digital Archive Group, an experienced archival services company in Buffalo Grove, IL.
Once completed, the digitized Dziennik will yield a wealth of information about Western New York's Polish people, businesses, churches, schools, institutions, and events not covered by the mainstream press, including
Local politics and business news
Church, school, arts and social events
Bios of leaders and community members
Birth and marriage announcements and obituaries
WWII news on servicemen, editorials, ads for war bonds and recruitment
1950s Cold War and Labor Movement
We Invite You to Make a Gift
PGSNYS has already raised $22,484 toward a goal of $35,690 to digitize the approximately 57,000 newsprint pages of local editions from the critical WWII and early Cold War years. We need your help to raise the final $13,206 to complete this project!
Please join with like-minded individuals and organizations who care about the history of Buffalo's and Western New York's Polish American community by making a contribution of $10, $25, $100, or even $500 to the Dziennik digitization.
Donations in any amount will help preserve and make accessible this important record of Polish American life during the 1940s and 1950s for generations of students, historians, genealogists, journalists and community members! Indeed, you may find your family within the Dziennik's pages!
You can make a contribution online or mail a check to:
PGSNYS
P.O. Box 984
Cheektowaga, NY 14225
The Polish Genealogical Society of New York State is a 501(c)(3) tax-exempt organization.
(Dziennik is pronounced "Jenn-Neek")