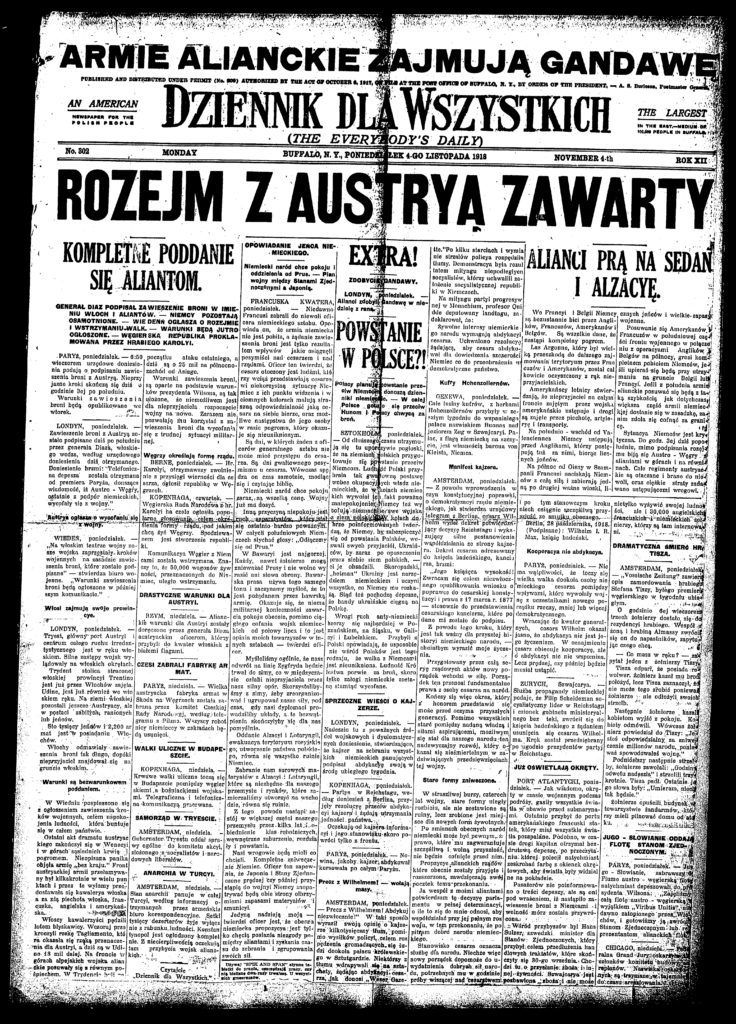 Newspaper research is important to genealogists because newspaper articles offer insight into the daily lives of our ancestors. Details about their civic contributions, social and professional lives, and community roles, can help add "flesh" to the "bare bones" of names and dates in our family trees. To this end, our most recent special project has been the digitization of the entire microfilmed collection of Buffalo's former Polish-language newspaper, the Dziennik dla Wszystkich [Everybody's Daily], which was published from 1911 to 1957. Most issues are currently available online at NYS Historic Newspapers, and can be searched for particular surnames or keywords through Optical Character Recognition (OCR).
Starting in 2023, we have commenced the next phase of our Dziennik digitization project. The Polish Museum of America (PMA) has preserved approximately 9 1/2 years of local, Buffalo editions of the Dziennik newspaper which have never been microfilmed or digitized. We have entered into an agreement with the PMA which will allow us to digitize this significant historical resource, totaling approximately 57,000 pages. Donations are needed to help us fund this project, so please consider helping us preserve the Dziennik for generations to come!
Newspapers can also provide evidence for vital events (births, marriages, and deaths) in our ancestors' lives. It was a common practice within the Polish-American community to publish death notices in Polish-language newspapers, including the Dziennik.
PGSNYS volunteer, Ed Kornowski, began coordinating the project to index names from death notices and obituaries from the Dziennik in 1999. We did not stop with death notices, however, and expanded the proect to include birth, marriage, and engagement announcements, and more. In 2023, the PGSNYS Dziennik dla Wszystkich Newspaper Index includes over 48,000 entries. Years completed in full are 1911–1941, with the exception of September–December 1913. If you find a relevant death notice in our database, you can obtain a copy at NYS Historic Newspapers, or contact us to request a copy. Copies of death notices are $3.00 per notice for PGSNYS members and $5.00 per notice for all others. Payment should be made by check or money order; include a self-addressed, stamped envelope if you cannot accept image copies via e-mail.
For translation assistance with death notices published in the Dziennik, please see our Translation Guide.